Our 2022 Annual Report sums up the dynamic year we had – adding value for our members and partners from across the globe as an enabler of proactive collaborations and new partnerships. We hope you enjoy reading about our accomplishments!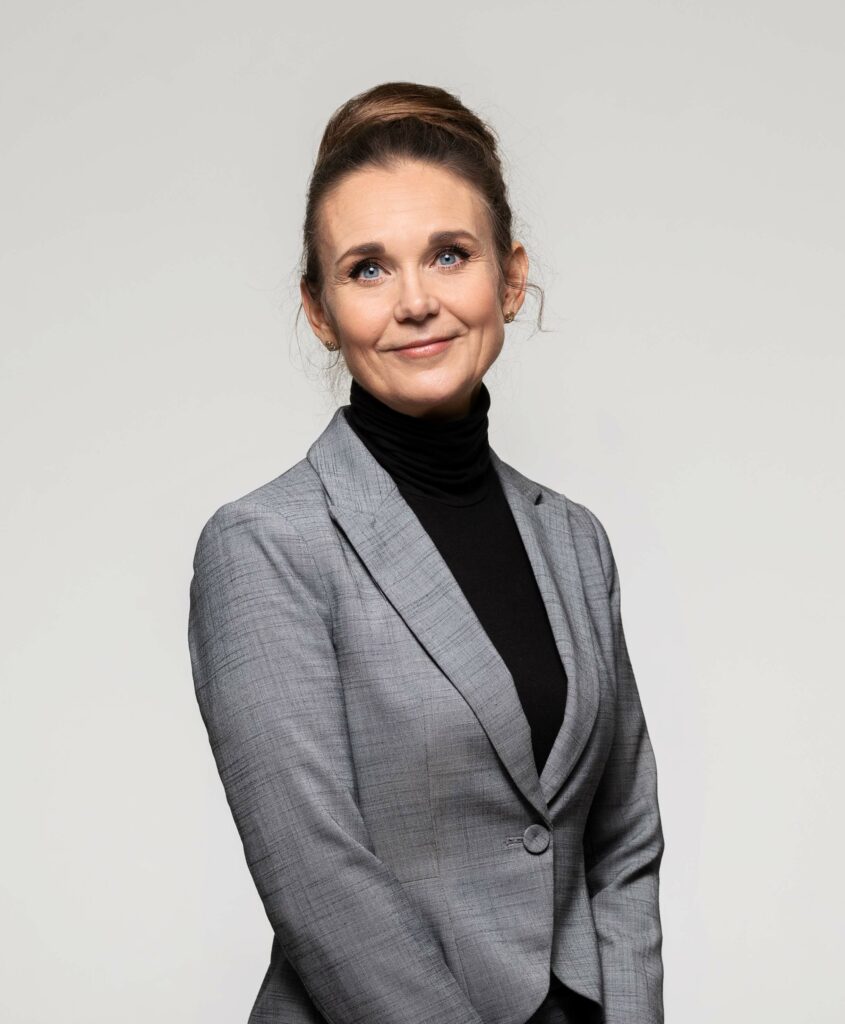 Permacrisis and Partnerships
While 2022 was a year of NIR achieving goals as an organisation, it was a devastating year for global peace and security as the war in Ukraine sent shockwaves across the globe. As an initial response, NIR facilitated exchanges with our members on how to deal with the immediate effects. Support from our Sustainability Impact Accelerator to Ukraine in establishing a national emergency response system continued despite some initial challenges. With exchanges on Ukraine and a wide range of other topics, Meeting Point NIR was taken to a new level. Our Let's Talk series gathered a record number of participants for peer-to-peer exchanges on 24 occasions to discuss challenges and opportunities identified by members. An extensive and wide range of current topics were discussed, such as the EU directives on corporate sustainability requirements, responsible sales and purchasing and many other Environmental, Social and Governance (ESG) related topics as well as markets. By facilitating relevant exchanges with different departments ranging from compliance and sustainability to finance and purchasing, we deepened our member network in 2022.
We also welcomed two new valuable members – Hitachi Energy and the Swedish Export Credit Corporation (SEK). Hitachi Energy has technologies that are central to the energy transition, not least in low- and middle- income countries. With lending in 60 countries, SEK plays a pivotal role as financier of Swedish exporters as well as exporters' subsidiaries and customers abroad. The addition of these two key members means that our membership is now larger than ever before. Both sustainability challenges and opportunities were in focus in 2022. The ongoing transition for countries and industries will require new collaborations and partnerships to ensure that it does not happen at the expense of people and the environment. Business as usual is simply not an option. Scalable models to avoid negative impact and drive a positive sustainability outcome need to be developed. This is where NIR adds value – as an enabler of proactive collaborations and new partnerships.
We took major steps this year towards achieving our three-year strategic goals set by our Board of Directors in 2020. By taking great strides towards the strategic objective of having three major programmes with the Swedish International Development Cooperation Agency (Sida) as our funding partner, we strengthened our unique position as an enabler of collaborations between Swedish international development cooperation and Swedish business. As the world became less secure over the last year, the importance of due diligence, risk management, security and safety, including IT and travel security, was pushed even further into the limelight. We responded by further developing our due diligence and risk management processes. All NIR staff completed Hostile Environment Awareness Training (HEAT), and we adopted a revised Travel Action Protocol. We also improved our IT and data security as we moved our offices into Business Sweden at the World Trade Centre.
Despite the trying times and current challenges, we have not lost sight of directly tackling some of the most pressing issues at hand. We will continue to work closely with our members and partners in developing scalable models to avoid adverse impact and drive a positive sustainability outcome in low- and middle income countries. This shared vision with our members and partners will guide us in 2023 and beyond.
Our members doing business in complex markets, regardless of business model or industry, face similar challenges and risks of adverse impact. Knowledge exchange is a valuable way to address such challenges and risks. Meeting Point NIR is a cornerstone of our operations as it unites our members in a space to exchange on these issues. Through Meeting Point NIR, we facilitate peer-to-peer exchanges between our members to discuss and address ESG related topics, trade and markets. In 2022, we held 24 exchanges which gathered over four hundred participants.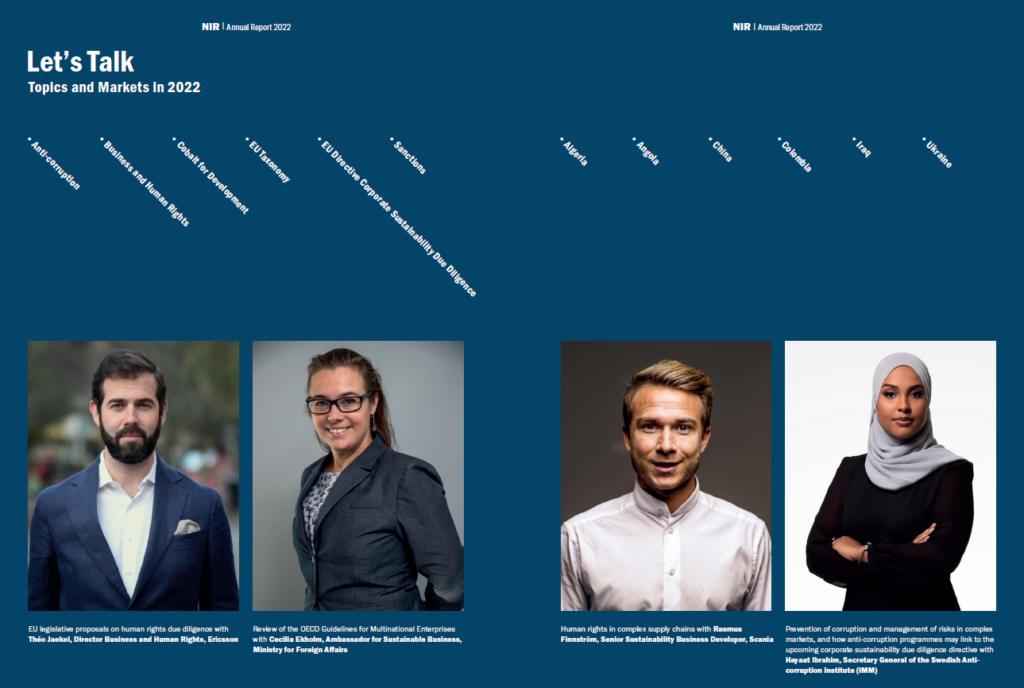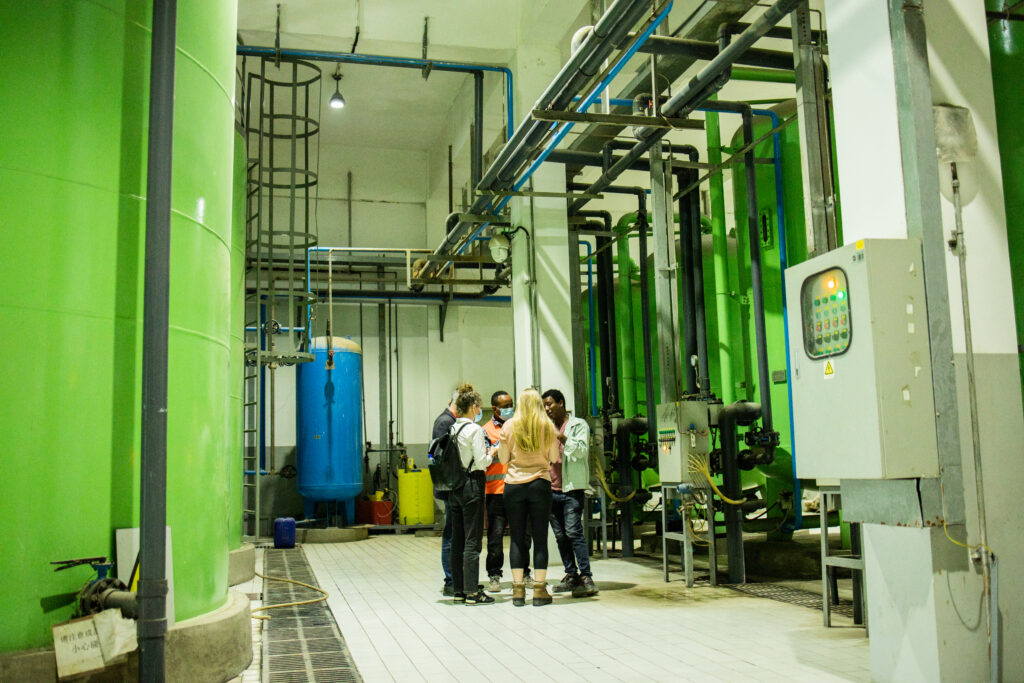 Effective and targeted capacity development to support national plans to achieve the SDGs
Partnerships – collaborative action between multiple stakeholders, such as our members, the value chain, other businesses, civil society, authorities and governments – are key in complex markets. By acting sustainably and responsibly, Swedish business promotes global sustainability and contributes to decent jobs and sustainable economic growth. Yet, in more complex markets, risks for adverse impacts on communities, the environment, governance and transparency often all exist alongside security and conflict risks. In these contexts, a single company or actor's ability to mitigate and to positively influence such risks to bring about meaningful change is limited by factors outside its own sphere of influence. Partnerships though create opportunities to use an integrated and holistic approach to managing risks and leveraging a positive sustainability outcome. Our Sida-funded programmes provide practical and demand-driven ESG support to in-country partners to reduce risks for people, the planet and business with the end goal of promoting sustainable and inclusive economic development. Our members positively impact the SDGs beyond their own business and industry by engaging in our pogrammes and providing a corporate view on what is required for improving ESG conditions. Through NIR, our members and the broader Swedish business community can partner with international development cooperation.
Words From OUR Members and ParTNERs
"As a technology enabler, Hitachi Energy places great value in long-lasting partnerships, especially in the countries and sectors most in need. NIR provides a platform for such partnerships. The global and scalable programmes that NIR implements as a nexus between aid and trade give us the possibility to impact the SDGs beyond our own business and industry. With a proven track record and unparalleled presence in more than 140 countries, we likewise believe that we can add value to NIR."
"Swedish industry, with its long history of workplace cooperation, has the unique opportunity to drive social sustainability in the countries where it has operations by contributing to decent working conditions and inclusive economic development."
"We firmly believe that mobilising the capital flows required to achieve the SDGs in low- and middle-income countries is only possible if we work together. The financial sector has a key role in ensuring robust due diligence processes and evaluating the risks, but when it comes to putting together effective action plans to ensure the desired sustainable outcomes, this is best achieved in collaboration. Here we see great opportunities for positive synergies between aid and trade."
"The Swedish Workplace Programme is an opportunity for Scania to realise its high ambitions for the well-being and rights of employees. When we work together, my company gets better!"
"EKN, in close cooperation with its banking partners, delivers investments on a large scale – especially to infrastructure projects – in countries and sectors where private capital does not flow naturally. We act as a catalyst for investments, especially in countries that are perceived as high-risk countries. The programmes that NIR operates serve as a perfect interface between foreign trade and development cooperation. The whole is greater than the sum of its parts!"
Tel: +46 8-783 00 50 
Visiting adress: 
Klarabergsviadukten 70
BOX 13009, 10301, 
Stockholm
Sweden
PRIVACY AND COOKIE POLICY
International Council of Swedish Industry 2022. All Rights Reserved.