In cooperation with partners SWP enabled interaction between different industry sectors and the union in Vietnam to address the importance of dialogue in the workplace. The seminars highlighted benefits for sustainable business, crisis management as well as good working conditions.
How social dialogue in the workplace contributes to better working conditions and sustainable business was the focus when SWP, the Vietnamese Chamber of Commerce and Industry, VCCI and the Swedish Embassy in Vietnam hosted a seminar in Hanoi.
The Swedish Minister of Foreign Affairs, Ann Linde, emphasized in her keynote speech that:
Social dialogue in the workplace is not only a means to an end but also an end in itself. It stresses the value of the individual worker, while at the same time creating business and societal economic growth and prosperity.
The over 100 participants representing businesses and workers, government agencies and civil society agreed to this fact and SWP, IKEA, H&M and a supplier to H&M, the Vietnamese company Crystal Martin gave examples on how social dialogue can be conducted at the workplace in benefit of all parties.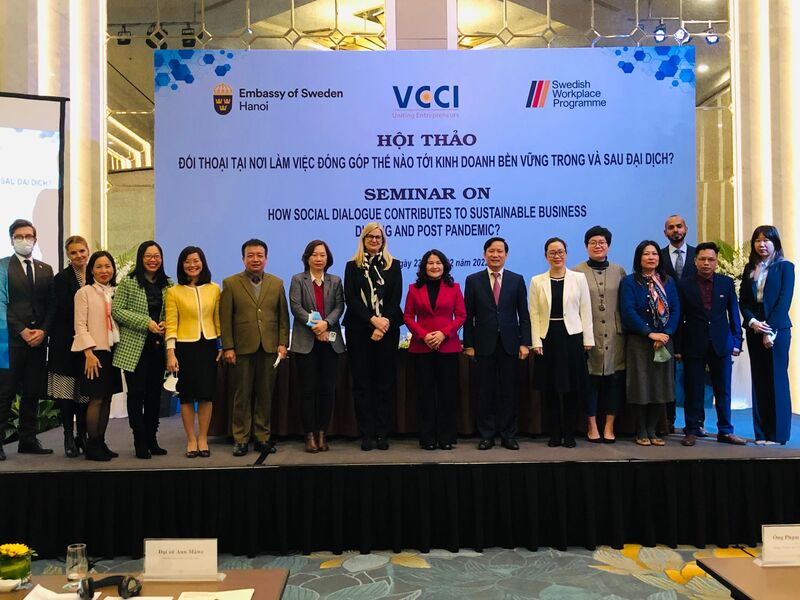 Workplace cooperation for better crisis management
SWP and the Vietnam General Confederation of Labour (VGCL) gathered representatives from the National Industrial Unions for a seminar about how social dialogue and workplace cooperation can contribute to better crisis management in times of COVID-19.
"We had good discussions. The participants expressed that they really appreciated the setting and interaction between different industry sectors" says, Nguyen Thu Hien coordinator for SWP in Vietnam.
Currently COVID-19 has halted a period of rapid income and wage growth for workers and households in Vietnam according to the World Bank. The country is slowly getting back to normal from the lockdowns that affected employment, incomes, with closed factories, sometimes having staff living on site for months to maintain the production.
In the seminar SWP introduced how workplace cooperation can be a long-term strategy contributing to the resilience of both companies and employees. This was the first of a series of knowledge seminars in 2022 together with the Vietnamese union on transition and workplace cooperation to develop decent work.