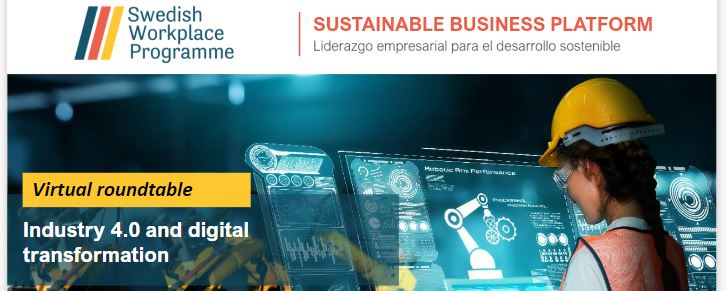 SWP in Colombia gathered companies in a virtual sustainable business platform to discuss about Industry 4.0 and digital transformation. The participating companies presented their approaches to new technologies and digital transformation, as well as the opportunities, challenges, results and lessons learned from their processes.
Progress in digital transformation in Colombia will contribute significantly to the country's productivity and connectivity. There are opportunities to implement new technologies for the growth of companies and the provision of new services. Moreover, to reduce gaps as well as inequalities in for instance gender equality and rural connectivity.
Opportunities with new technology
Colombia still has challenges in terms of infrastructure and access to new technologies, which represents an opportunity for mobile operators. The use of Artificial Intelligence (AI) can help companies in transportation, mining, or ports to minimize high-risk activities for personnel, and increase efficiency in their activities.
Swedish companies realise that they have a great opportunity to gather experiences and learnings from technological applications, sustainability, and digitalization to lead these processes and inspire as well as provide products and services to the Colombian market.
Manage change 
A shared insight is that digital transformation process means not only using new technologies but also managing change within the company and how the technology will impact business. There are several opportunities for companies to take advantage of technology to optimize business processes and facilitate work methods. Corporate transformations require a willingness for a change of mindset, and access to technology with proper content for available tools.
One lesson learned is that companies should constantly communicate with their employees to address the misconceptions related to the impact of technology on their work and roles. The company needs to showcase the benefits of including technology within company processes, focusing on the opportunities to create new tools and ways of working.
Companies shared lessons learned
SKF presented examples of automated assistants, remote sensor monitoring, and their "Supply Chain 4.0" value chain initiative that aims at promoting more sustainable production.
The companies that participated in the platform and shared best practice were Assa Abloy, AstraZeneca, Epiroc, Ericsson, Sandvik, Scania Finance, Securitas, SKF, TetraPak, Variadores S.A.S and Volvo Group.
---
"We are doing this to have a more agile operation. It is not only outward, but also within the organization. We use technology to improve our processes, reduce redundancies and to make our lives easier."
Francisco L. Rodríguez Managing Director, SKF 
"Having a sustainable digital transformation requires, without any doubt, the support and real commitment from top management, which allows to maintain the vision and mission of the organization so that we do not get lost along the way, a prioritization of all projects and to effectively manage change. We need a transformative vision in the organization's messages."
Maira Amaya Digital Transformation and Supply Chain Manager, SKF
"It is key to have differentiated teams to advance faster in the digital transformation process. It is a beneficial and constant learning process, and the most important thing is that people can understand the path they are taking and that they can define short-, medium-and long-term objectives."
Rafael Villalba, General Manager, Volvo Andina