Today, the 7th of October, is the World Day of Decent Work. The International Labour Organization (ILO) has developed an agenda for the world of work looking at job creation, rights at work, social protection and social dialogue.
The Swedish Workplace Programme (SWP) focus on social dialogue and workplace cooperation to contribute to the decent work agenda. SWP partners with companies and unions to support dialogue and cooperation at the workplace in benefit for all parties.
ILO defines decent work in four pillars:
Full and productive employment
Social protection
Rights at work
Promotion of social dialogue
SWP focus on two of the pillars.
Rights at work
All employers need to take responsibility for recognising and respecting workers' rights. It is also of importance that all voices are heard at the workplace by management who has the power to support the changes needed to create decent work. By using social dialogue, the voices are being heard.
Promote Social Dialogue
SWP promotes workplace cooperation through social dialogue.
Structured dialogues support management and employees in identifying improvements together in the workplace.
All voices are heard at the workplace
The SWP approach uses social dialogue as a tool to make everyone's voice heard in the workplace. Management and employees are represented in committees where a dialogue structure is used at the workplace level. Using workplace committees, union or employee representatives have better opportunities to express their concerns and communicate their needs to the management.
This approach enables the workplace to be well-prepared to handle change, whether planned or unforeseen.
SWP makes best practices available for workplaces by equipping management and employees with new perspectives, knowledge, and cooperation based on trust and respect. These practices are building blocks to jointly work with workplace challenges and thematic such as diversity and inclusion, skills development and health and safety.
SWP collaborates with companies to:
Establish and/or improve structures that support workplace dialogue to facilitate workplace collaboration and productivity
Encourage workplaces to become more sustainable and go beyond compliance
Equip organisations with technical competence to develop appropriate initiatives in relation to challenges in the workplace
Provide platforms for dialogue and networks where companies can participate in joint strategic discussions on solutions to address sustainability challenges
Assist in developing structures for best practice that can be replicated
Examples
Together with our partners we strengthen cooperation, dialogue and contribute to decent work. In the workplaces where SWP engages, numerous initiatives have been carried out and companies have improved preconditions for dialogue.
In Kenya, social dialogue has contributed to decreased conflicts. Management, trade union representatives and employees jointly solve challenges through the workplace committees supported by SWP. Watch the video to the right.
The upskilling programme run by SWP in Kenya and South Africa, provide shop stewards skills needed in their role as employee representatives at the workplace. Within the upskilling programme union and company representatives meet to discuss the importance and impact of social dialogue. Watch the video to the right.
Below are examples of initiatives taken by companies that develop skills to improve conditions in the workplace. SWP makes best practices available for workplaces to work with challenges and thematic such as diversity and inclusion, skills development and health and safety.
Diversity and Inclusion
SWP and Swedish companies in Colombia create awareness about Diversity and Inclusion .Watch the video to the right.
SWP promote conversations on how our differences present unique opportunities to grow and improve as a society.
SWP and the partners in Colombia support this in many ways. One activity is a dialogue with children and youth on their perspective of what a diverse society is.
Watch the video to the right created by SWP's partners in Colombia.
Diversity and Equality
SWP and Atlas Copco in Colombia share their insights on inclusion for Diversity and Equality. Watch the video to the right.
Diversity and Equality
SWP and SKF In Colombia challenge biases and stereotypes in the workplace and throughout broader society by generating inclusive dialogue about gender.
Watch the video about the equality awareness initiatives by SKF Latin Trade.
Highlights about important themes for Decent Work
Training to enable Social Dialogue
Link to a highlight about the upskilling programme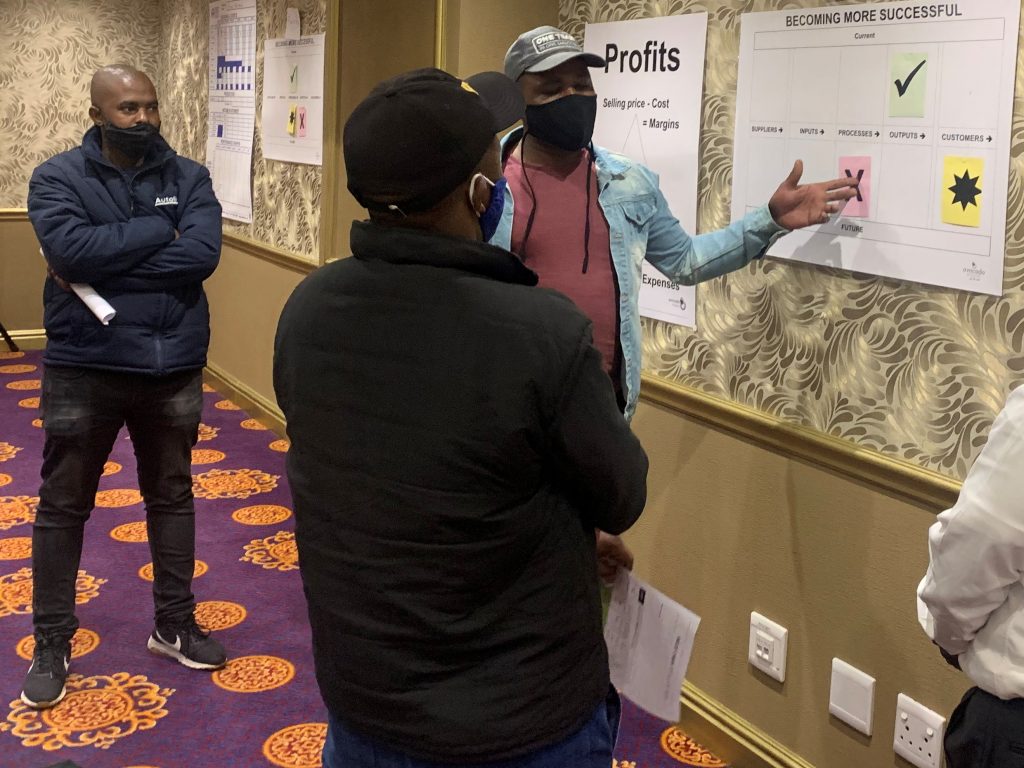 OHS is one of the keys for Decent Work
Link to a highlight about the importance of Occupational Health and Safety